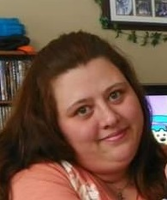 Kimberly S. Delles
BRASHER FALLS – Funeral Services for 42 year old Kimberly S. Delles, a resident of 7 Smith Road, Brasher Falls will be held at 2 p.m. at the Buck Funeral Home in Norfolk with Elder Ken Ashley from the Knapp's Station Community Church presiding. Family and friends may call at the Buck Funeral Home in Norfolk on Saturday from 12 noon until the time of the services. Kimberly passed away tragically on Friday, November 8, 2019 in an automobile accident in Malone, NY while traveling with her fiancé.
Kimberly is survived by her son, James P.F. Frizzell, North Lawrence; a daughter, Emma R.A. Moreau, Bombay and a step-daughter, Savannah L. Moreau, Massena; three grandchildren; her twin sisters, Cheyenne Whitford, Edwards and Sumerlyn and her spouse Jason Dancause, Canton and her step-mom Cindy Bressette, Edwards as well as several nieces, nephews, aunts, uncles and cousins. Kimberly was engaged to Charles "Chuck" Yaddow who also passed away in the accident. Born in Gouverneur, NY on September 22, 1977 to the late Paul A. Delles and Aldora "Jean" Stevens Stone, Kimberly graduated from Gouverneur High School in 1996. Most recently, Kim worked at the Akwesasne Mohawk Casino as a cashier for the past 15 years. Kimberly enjoyed many activities which included gardening, cooking and canning, babysitting, camping, playing cards, knitting, watching movies and shopping. Most of all, Kimberly loved spending time with her children whom she adored.
Memorial donations in Kimberly's memory can be made to the Brasher Falls Girls Scouts, Troop #50303 or to the Gabrielle Project, two organizations that are meaningful to her. Memories and condolences may be shared with the family online at www.buckfuneralhome.com .