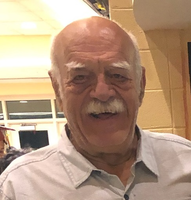 Bruce Konkoski
NORWOOD -- Bruce Lloyd Konkoski of Norwood, NY, died at St. Joseph's Hospital in Syracuse, NY, following complications from surgery. He was 75 years old. Bruce was a lifetime resident of St. Lawrence County, where he was an active member of many community projects and organizations. His inventive mind and spirit of adventure led to an endless list of hobbies, one-of-a-kind creations, and unpatented contraptions. His curiosity and love of nature lasted his entire life.
He is survived by his wife of 54 years, Bonnie, daughters Beth (Jim Bates), Anne (Rich McNulty), Jane (Jim Manning), and Linda (John Burger), and nine grandchildren: Sam, Claire, Nick, Ellie, Riley, Lydia, Andy, Ethan, and Will. He is predeceased by his parents Charlie and Dorothy, brother, Jack, and son, Brian.
Bruce graduated from Massena High School and SUNY Oswego. He taught Industrial Arts at Madrid-Waddington High School, built and remodeled homes throughout the North Country, and held a variety of roles at ALCOA, where he worked for 19 years. After his retirement in 1999, he loved spending time at his home on Norwood Lake and his hunting camp, visiting his grandchildren, and traveling to Texas to enjoy the beaches on the Gulf of Mexico. He will be remembered for his gregarious personality, sense of humor, and colorful storytelling. The family will hold a celebration of Bruce's life at their home in Norwood on October 12, 2019 and memories and condolence may be shared online at www.buckfuneralhome.com . The Buck Funeral Home is serving the family of Bruce L. Konkoski.