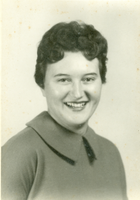 Roveletta H. "Rovie" Huiatt
NORWOOD – Funeral services for 82 year old Roveletta H. "Rovie" Huiatt, a resident of 51 South Main Street, Norwood, will be held on Saturday, June 22, 2019 at 11 a.m. at the Zion Episcopal Church in Colton with Rev. Patricia Lavine presiding. Burial will be held in the Chapel Hill Cemetery in Parishville following the services. Following the burial, a luncheon will be held in the fellowship hall at the church. Calling hours for family and friends will be held at the Buck Funeral Home in Norwood on Friday from 4-7 p.m. Rovie passed away on Sunday, June 16, 2019 at the Ontario Center in Canandaigua, NY after a brief stay.
Rovie is survived by her daughter, Dr. Kelly Huiatt, Honeoye Falls, NY; her son, Rodger Huiatt, Norwood; her two beloved grandchildren, Joshua and Lexis Huiatt; a niece Tonya and Mike Murdie and a nephew Joseph Howe. Rovie was pre-deceased by her parents, her husband and her brother, Blanchard "Jr" Howe Jr.
Born in Potsdam, NY on November 21, 1936 to the late Blanchard and Jennie Tyo Howe, Rovie graduated from Colton-Pierrepont Central School and later the Eastman Dental School in Rochester, NY. She worked for Dr. Regan in Potsdam and Dr. Mark Moreau in Canton at Smile Care Associates as a dental hygienist, for over 30 years combined. She was an active member of the Colton Zion Episcopal Church as well as with the Daughter of the King. Rovie loved watching Syracuse basketball, playing cards and spending time on the island at the family cottage on Star Lake with her dog "Pypy" and enjoyed a glass of The Famous Grouse with her family and friends. Rovie was always full of energy and up to just about any task. Memorial Donations in Rovie's memory can be made to the Zion Episcopal Church in Colton, 91 Main Street, Colton, NY, 13625 and memories and condolences may be shared online at www.buckfuneralhome.com . The Buck Funeral Home in Norwood is serving the family of Roveletta H. "Rovie" Huiatt.