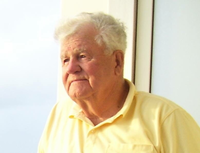 Paul J. Caster
COLTON— Funeral services for 86 year old Paul J. Caster, a resident of 100 County Route 58, Colton, will be held Tuesday, December 18, 2018 at 10 a.m. at the Colton United Methodist Church Colton with Rev. Brooke Newell presiding. Burial will be held in St. Patrick's Cemetery, Colton. Family and friends may call at the Buck Funeral Home in Colton on Monday from 2-4 and 6-8 p.m. Mr. Caster passed away Thursday, December 13, 2018 at the Canton-Potsdam Hospital.
Paul is survived by his three sons, Thomas and Bonnie Caster, Eugene, Oregon; James and Linda Caster, Ogdensburg; Daniel and Karen Caster, Canton; his four daughters, Cynthia Erwin, Colton; Bonita and Bob Perkins, Seymour, CT; Kathleen Caster and her companion Rodney Regan, Colton; Pamela and Cecil Wilcox, Windsor, NY; nineteen grandchildren, twenty-seven great grandchildren, three great-great grandchildren, a brother Carl and Melita Caster, Colton; two sisters, Ardiena and Fred Sill, PA; Bessie and Leonard Paige, Colton as well as several nieces and nephews. Paul was pre-deceased by his wife Mary on September 13, 2017, a brother William Caster and his two sisters, Rosalie Fisher and Ruth Weller.
Born in Potsdam, NY on August 30, 1932 to the late William H. and Georgie M. Stoers Caster, Paul attended Potsdam High School. He married Mary L. Fisher on October 6, 1951. Paul was devoted to the Colton community as he worked for the Town of Colton with the Highway Department for over 30 years as well as being an active member of the Colton Fire Department for nearly 60 years. Paul and Mary loved to travel together and he enjoyed his gardening and flowers in which he was known for. He also loved being outside cutting wood. Memorial Donations in Paul's memory can be made to the Colton Fire Department or to a charity of one's choice and memories and condolences may be shared online at www.buckfuneralhome.com . The Buck Funeral Home in Colton is serving the family of Paul J. Caster.