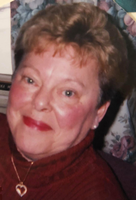 Minka M. Degan
SOUTH COLTON-- Minka M. Degan, 71, of South Colton, passed away peacefully at home with her family by her side in the early morning of Thursday, November 29, 2018 after a long and courageous battle with cancer. At her request, there will be no calling hours or funeral services. Burial will be held privately in the Stark Cemetery, South Colton. Minka was born on September 26, 1947 in Ogdensburg, NY, the daughter of Bernard and Sandy (Fobare) McNamara. She attended St. Mary's Academy in Ogdensburg and went on to graduate from Potsdam High School in 1966. A marriage to Darrell W. Tracy ended in divorce. Minka married Leo A. Degan on December 22, 1982 at the home of their close friends Donna and Terry Brockway.
Minka is survived by her loving and devoted husband of 36 years, Leo; daughters, Jill (Aaron) Sabre of Madrid, NY and Nicole Tracy (Stephanie Claxton) of West Stockholm, NY; step daughters Tanya Kuleszka and Jessica Valade of Cornwall, Ontario; grandchildren, Morgan, Abigail, Quinn, Liam, Sheadon and Finlay; mother, Sandy McNamara of Ogdensburg, NY; sister, Dody (Dewey) Wratten of Utica, NY; and half-sisters Allison McNamara and Liz McNamara Hayes. Minka was predeceased by her father.
Upon graduation from high school, Minka worked at Pahler's and Elliott Hardwood before finding her calling working with college students at Clarkson University. Minka was the Assistant Director of Transfer Admissions. She also served as an adviser to Phi Theta Kappa and played an important role in the founding of the New York State Transfer Articulation Association (NYSTAA). She touched the lives of many, including faculty, staff and most importantly students, during her time at Clarkson. Minka always looked forward to boating season and cherished time with her captain, Leo, at the helm of the Minka Marie II. Together they cruised the mighty St. Lawrence River, where their adventures led them to many beautiful places and introduced them to lifelong boating friends. Minka will forever be remembered as a kind-hearted, loving and strong women, with the ability to make everyone feel at ease with her laughter and warm smile. Nobody told a joke quite like Minka. She cherished her morning coffee with Leo and lifetime routine of multiple daily phone calls with her mother, sister and daughters. Minka loved to knit in the comfort of her cozy home and spent countless hours making beautiful handcrafted gifts for her loved ones. Toast with a glass of wine and tell a joke in honor of our beloved Minka. Donations in lieu of flowers can be made in Minka's memory to the Center for Cancer Care at Canton-Potsdam Hospital c/o the Canton Potsdam Hospital foundation, 50 Leroy St., Potsdam, NY 13676 or The Potsdam Humane Society, 17 Madrid Avenue, Potsdam, NY 13676 and memories and condolences may be shared online at www.buckfuneralhome.com . The Buck Funeral Home in Colton is serving the family of Minka M. Degan.