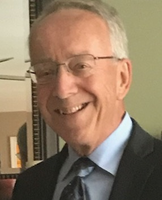 Jon D. Hazen
RAYMONDVILLE—Funeral services for 72 year old Jon. D. Hazen, a resident of 1 Woodland Drive, Raymondville, will be held Saturday, November 24, 2018 at 1 p.m. at the Raymondville United Methodist Church with Rev. David and Jamie Barnum presiding. Burial will follow the services in Bixby Cemetery, Norfolk. Family and friends may call at the Buck Funeral Home in Norfolk on Friday, November 23, 2018 from 1-4 p.m. and 6-8 p.m. Mr. Hazen passed away peacefully Tuesday evening, November 20, 2018 at the Canton-Potsdam Hospital with his family at his side.
Jon is survived by his wife of 51 years, Cheryl, Raymondville; his twin daughters, Christine and Michael Bateson, Brewerton, NY; Colleen and Donald Clark, Pennellville, NY; his four beloved grandchildren, Ryan and Emma Clark and Nicholas and Allison "Allie " Bateson; his sister, Jennifer and Roy Bixby, Malta, NY as well as several special nieces and nephews.
Born in Potsdam, NY on November 8, 1946 to the late Heywood and Frances "Petty" Ferguson Hazen, Jon graduated from Norwood-Norfolk Central School and obtained a bachelor's degree from SUNY Potsdam. He married his high school sweetheart, Cheryl Kingsley on August 19, 1967. Together, they raised their twin daughters while Jon taught school at Norwood-Norfolk as well as being a coach. Jon was very active within the community as he was a current member and President of the NNCS School Board, the vice-president of the St. Lawrence School Board Association, a member of NYSUT, a NYS Track Official and Jon was the founder of the youth soccer program in the Norwood-Norfolk-Raymondville area. Jon was also a past member and president of the Norfolk Lions Club and enjoyed attending any sporting events, especially soccer and track. Above all, Jon was devoted to his family and enjoyed watching his children and grand-children grow as adults. Upon his retirement in 2002, Jon worked with the Buck Funeral Home. Jon was a perfect fit with his personality and connections within the community. He truly enjoyed his work there as he could "catch up" with all of his former students, as he loved to visit and had a gift to tell a story or two. He was a well-respected and valued person to both the community and the funeral home. Memorial donations in Jon's memory can be made to the Norfolk Rescue Squad, the Canton-Potsdam Hospital Cancer Center or consider being a blood donor in his memory. Memories and condolences may be shared online at www.buckfuneralhome.com. The Buck Funeral Home is serving the family and our friend, Jon D. Hazen.