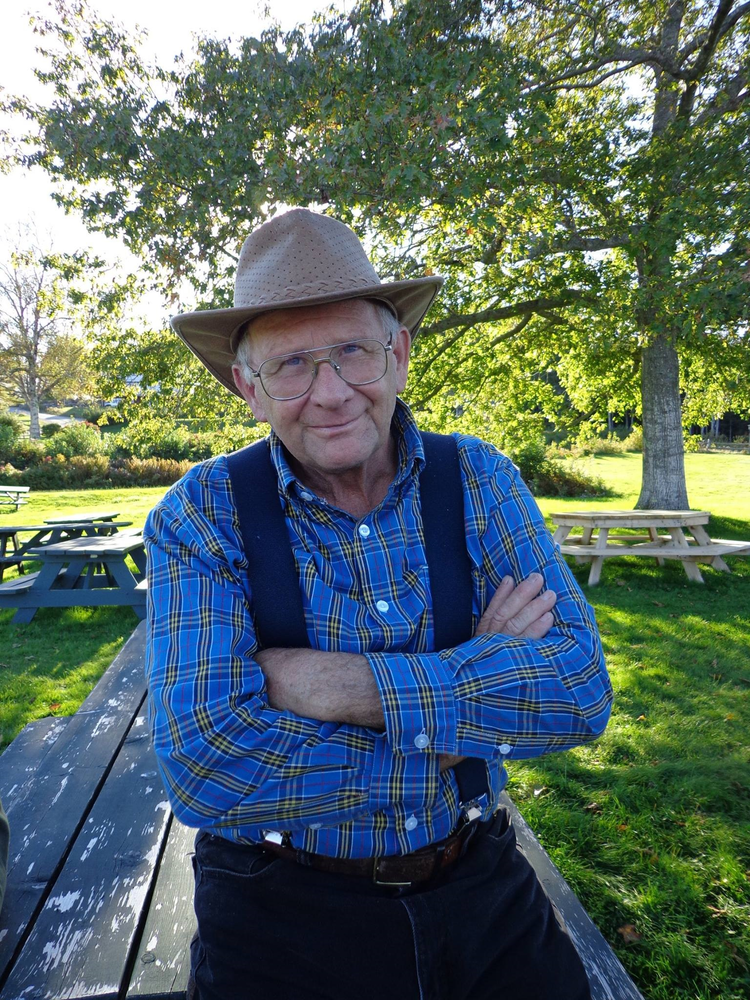 In Memory of
William G. "Gary" Atkinson
1946 - 2017
Obituary of William Atkinson
CANTON-- William Gary Atkinson passed away peacefully on May 7th surrounded by the love of those around him, and as importantly, the love of those thinking of him. If he had been the one writing this, the words he said at the hospital would have been it. "I have had a wonderful life, and a beautiful and wonderful wife, My beautiful Dawn, I am very content." We heard him say these exact words several times in the hospital when people came by to share their sorrow, and tell him how much he meant to them. If it were up to him this remembrance would have ended here because of his humble nature. For those that were lucky enough to know him well, that would suffice. They know how amazing he was even if he didn't like to hear it. He isn't here to write this, and so we can share how proud we are of him, and tell those of you that don't know him well, of his many amazing accomplishments. Gary was born on October 17, 1946 and grew up in the house built for his Great-Great Grandmother built in Harrisville, New York. He has always maintained a strong connection to the land and his family. It was there that he learned to play the guitar, ski, trap, hunt, build, and fix anything.
He is survived by his Brother Michael and Sister in-law Donna Atkinson of Harrisville, and a Sister Kathy and Brother in-law Wayne Boak of North Carolina. He was pre-deceased by his Father William Robert and his Mother Katherine O'shea Atkinson. He grew up with his Aunt Carolyn Jones, and Uncle Larry Atkinson who were within a year in age of him and were like siblings as he grew up. Growing up, Gary's family spent time visiting with his cousin Harley Lincoln and his wife Leota (Dawn's sister) in West Pierrepont. It was here that he met his beautiful Dawn, as the Moore homestead was adjacent to Harley and Leota's house. Through these visits their love began to bloom. He married the love of his life Dawn Phyllis Moore Atkinson on November 15th, 1969.
Music was always a staple in his life. He inspired many people to pick up an instrument for the first time. He taught Dawn how to play the guitar, and in his later years enjoyed playing the mandolin and accompanying her with the mouth organ. He didn't play the guitar much after he taught Dawn, but enjoyed just listening to her play and sing. He attended Paul Smiths and received a degree in forestry and Surveying in 1967. While there he spent time at White Pine Camp, and said recently that his time there gave him the opportunity for all of the things with his career.
He enlisted in the Army in 1967 and was dispatched to Vietnam, where he served in the 20th Engineers Brigade in a Headquarters and Headquarters company surveying and building forward bases and infra-structure. There he also made life-long friends; two of the most prominent are Rodney "Shep" Shepherd, and Roger Rhodes. They were able to have a reunion a couple of years ago. Shep passed away in 2016, but he is survived by Roger who lives in Minnesota. When he was stationed in Vietnam he did an R&R in Australia. Since he was missing home and the farm life, he signed up for a program where farm families volunteered to host soldiers. In Australia he met another life-long friend Lynette (Lake) Doyle. Over the years she and her husband Alan visited Dawn and Gary and always kept in touch sharing their growing family that nearly mirrored his own. It is amazing how close you can become from a world away.
After serving his first tour in Vietnam he signed up for a second tour but was medically evacuated out of Vietnam during that 2nd tour. He finished the rest of his enlistment surveying in Tacoma Washington until he was honorably discharged from the Army. During his service he was awarded the Army commendation medal for meritorious service by the Secretary of the Army.
After leaving the service, he and Dawn moved to the Olympic Peninsula of Washington state where he worked as a surveyor and made more life-long friends Gwen and Dan Kousbaugh. They lived there until 1973 when with two daughters under the age of two they loaded their belongings into a trailer behind their 1969 Toyota Landcruiser, and camped their way to Alaska with the idea of moving into the wilderness. He worked in Alaska surveying rivers, but the area at that time the area was not friendly to outsiders looking for work, and they decided it was time to move back home to the east coast to be near the family they loved so much.
In 1974 they were given a piece of property by Dawn's Mom and Dad; Howard and Kate (Chase) Moore that had been settled by Dawn's grandparents when it was incorporated by the Town of Pierrepont. They spent a summer living in a tent on the property while building and capping a cellar that was the lower level of their dream home. They moved into the cellar in the late fall of 1974 where they continued to dream, and save, for the rest of their house. They slowly bought what they needed, piece by piece. They have never had a mortgage. This involved cutting lumber off the property, and logs from a lot outside of Potsdam, and purchasing and setting up a sawmill so that they could mill their own lumber. They lived in the cellar for 9 years, the first 7 years without power or phone. It was here that he taught his beautiful Dawn to play the guitar, a gift that has blessed so many over the years. They started constructing their dream log cabin in, and moved in 1985. Gary designed and built every aspect of their dream house with input from Dawn and literally constructed every piece of the house with his own hands.
There were many times when others helped provide labor, but other than having some of the final electrical work performed by a neighbor he did the rest on his own, or with the help of Dawn, his family, and friends. The house went from standing trees to a final house by his hands with very minor exceptions. They maintained a small farm, a large garden, and kept Cows on the farm for many years. They kept the cows and maintained the fences in part so that Howard Moore could have cows until he died in 1999. He felt a strong connection with the land and always worked to maintain the forests and fields. They built a sugar house and made Maple Syrup until the health of the maple trees started to falter from acid rain and the ice storm of 1998.
Gary always dreamed of canoeing and camping with his family while he was in Vietnam and in the following years he enjoyed many canoe trips and adventures. He found much joy in being in a canoe with his family, and this was his favorite way to vacation while his kids were growing up. He always enjoyed the woodsmen's field days and in later years he enjoyed taking a fall trip to seaplane festivals, and to a camp in Cape Breton Nova Scotia owned by more lifelong friends the Frasers. Another dream was fulfilled when he purchased an airplane. He and Dawn shared many hours and trips both on wheels, winter skis, and later on floats. During the last years of his career his airplane was his escape, and he flew it regularly until the winter of 2001.
Each year Gary would build something for mother's day from something that he had saved that had sentimental value. Many times they were made with things that others would have thrown out, it was one of his strongest traits, to see something of value where others did not. A mechanical genius he built and fixed so many things over the years that would be unimaginable to most people. He was always a builder and fabricator; he could fix and make anything with nothing but ingenuity, reclaimed materials, and rudimentary tools. He shared his love for building with his children and grandchildren, and taught so many skills and lessons in those projects. He built on the property many safe and meaningful spaces that the family enjoys.
In 1976 he started working for Michael Baker Consulting Engineers creating tax maps for Saint Lawrence County. He worked for Harry Roush who became another life-long friend. In 1977 he started working for the Saint Lawrence County tax mapping office where he retired as a Senior Map Technician after 28 years retiring in June 2004. He served on the Pierrepont zoning board of appeals for many years, and helped with Dawn on many senior club, and community events.
They have 4 Children; Katrine and son-in law Kenny Planty, Lynette and son-in law Phil Collins, Billy and daughter in-law Kim, and Gretchen and son-in law Corey Bartlett.
He has 10 grandchildren, Kenny and Brittney Planty; Blair, Philip Bryant, Brooke, and Hailey Collins; William (Liam) and Nathan Atkinson; Landon and Lydia Bartlett, and 2 Great grandchildren, Sawyer and Sydney.
As he would tell you he had so many dreams over the years and felt like he got to live them all. He painted pictures of his life with prophetic accuracy while in the Army. Pictures of his beautiful wife, four children, airplane, and their many adventures together; it would be decades before these paintings were to be brought to life. Many lessons were taught by this extraordinary man, and the lives touched by him are countless. He taught us how to live a genuine life, to love, work hard, and that living your dreams is possible. One of the last lessons he taught was that in the end "the little things become the big things." Learn to appreciate the little moments today, for someday those seemingly small memories and actions will mean the most. You never know when the smallest act of caring, kindness, or making someone feel special will have enduring effects and may be the stories you share as you near the end of your time here.
He has never liked to be more than arms length from Dawn, and will have his ashes with her until she joins him. Together they will then remain; at the lean-to that they built together in the woods he loved so much!
Memories and condolences may be shared with the family at www.buckfuneralhome.com . The Buck Funeral Home in Colton is serving the family of William G. Atkinson.
Buck Funeral Home Inc - Est. 1920.
About Us
Our mission is to care for you as we would care for members of our own family by providing information, services, and merchandise that is of the highest quality in a dignified and professional manner.

Norwood
7 Park St.
Norwood, New York
13668

Tel: (315) 353-2112
buckfh@verizon.net
Colton
62 Riverside Dr.
Colton, New York
13625

Tel: (315) 262-2050
buckfh@verizon.net
Norfolk
23 W Main St.
Norfolk, New York
13667

Tel: (315) 384-4321
buckfh@verizon.net